I love this, if you care enough to read this you probably understand where I'm going with this. I spent more money than I care to admit sometimes, but it sure is fun.
The pack
I'm just going to dive in then, I'll start with my bag – I'm using the Mountain Laurel Designs Prophet. It's 48L, lined with a trash compactor bag, and I'm using 1/3 of a folded in half Thermarest ZLite as a "frame". I also carry a Gossamer Gear fanny pack – all in it is used weight, duh. Honestly, it's mostly for snacks.
big three
My big three include the Gossamer Gear The Two (not listed in base weight or pictured because Angler wears it), polycro, 8 MSR Mini Groundhog Stakes, a Thermarest Neo Air XLite, and a Nunatak UL ARC 10 Degree Duvet. I'm a super cold sleeper so 10 degrees is perfect for me, I splurged and also got some extra filling in the toe box.
camp kitchen
For food storage I use an Ursak major combined with a smell proof bag (Smelly Proof or OpSak), I hang my food whenever I feel like it so I also use a 50ft length of ZingIt! and a carabiner. I use a Katadyn BeFree as a filter. Being gluten and dairy free, I prefer hot foods, so I have a 1100ml Toaks Titanium Pot (serves two) and an MSR Pocket Rocket Deluxe Stove. I also use a Sea to Summit long handled spoon with an MSR collapsible cup. Angler and I share this cooking system, so having the extra cup really helps.
Electronics/Emergency Items
For electronics, I carry an Anker PowerCore 10000mAh charger (along with an iPhone power cord and USB power pack), a Res-Q Link emergency beacon, and a Black Diamond headlamp (honestly, I can't remember what type). My first aid contains Ibuprofen, Benadryl, Imodium, ulcer meds (thanks GERD), 2 strips of KT tape, small tweezers, nail clippers and assorted bandages.
I also have a small repair kit with sleeping pad patch kits, tent patch kits, a needle with thread, small scissors and some safety pins. I always wear at least a Frogg Toggs poncho mostly because I'm a little bitch in the rain (so much so that I consider it a "first aid kit" item at this point).

luxury items
I carry two Black Diamond trekking poles (which I rarely use, I have to admit), but I'll probably use more with a heavier load. I have the other 2/3 section of a Thermarest Z-Lite which I use as a seat cushion and yoga mat.
Because of my spinal problems, I prefer to have a pillow. I use a Klymit Static X inflatable pillow and pair it with a Thermarest pillowcase (I stuff my puffy/other clothes in it because it adds extra firmness which I like). Finally, I'll bring a pair of cheap wired headphones to listen to some cool music.
Two luxury items I'm on the fence about (but honestly, I'll bring anyway because I know I'll want them) are a pair of Chaco camp/town sandals and a Rawology cork ball.
Miscellaneous Items
As I suffer from chronic insomnia, I have to be very careful to get a good night's sleep. I remedy this with a pair of earplugs and an eye mask to block out the light (it's just a cheap fleece headband, which can also double up for warmth during the day). Besides chronic insomnia, I also grind the shit out of my teeth at night, so I use an NTI unit. I always wear a mosquito hat because it's better to have than not (the gnats are extra calories but I'd rather eat Doritos for that). I like the Deuce of Spades because it digs better holes than just using a stone.
Wrapped clothes
I'm going to pack an extra pair of gym shorts for sleeping (or changing in case I shit in my pants) and a REI gym t-shirt. I will also be wearing an extra pair of Darn Tough micro crew socks and a spare pair of Patagonia barely brief underwear. For extra warmth, I have a Melanzana microgrid fleece, a Patagonia Micropuff puffer, fleece gloves (which may be discontinued later), a Carhartt beanie and a pair of Odlo base layer leggings.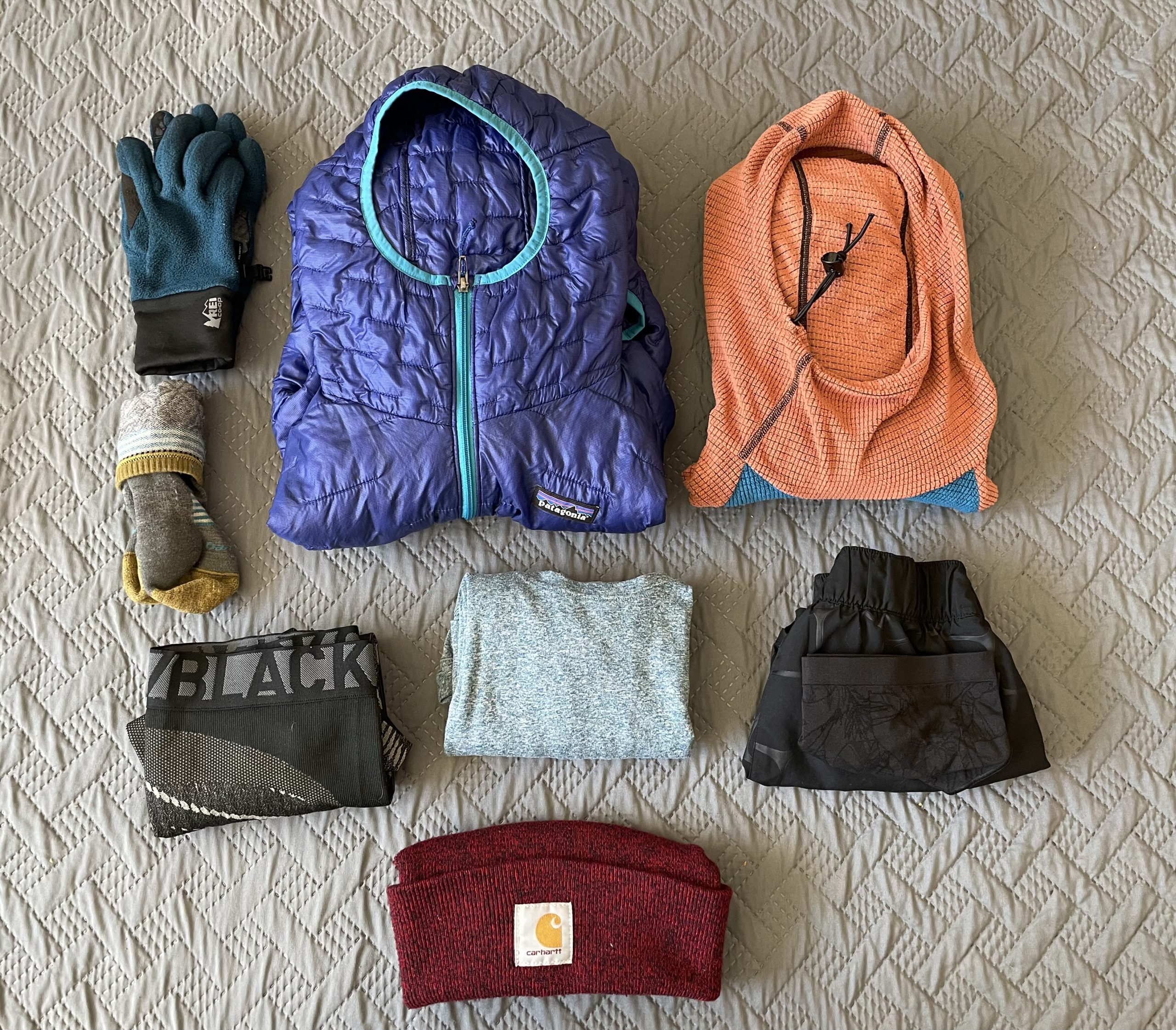 The Sierra
I'll be carrying a BV500 as it's needed, (not pictured) I use an old plastic hotel key card to help me open it when it's cold. For snow situations, I'll pack a Petzl Glacial Literide ice ax and a pair of Kahtoola microspikes.
For extra warmth, I'll pack an Odlo base layer top, a pair of Odlo long johns, and glove liners. I am very thin and get cold very easily, so I try to compensate for that.
For turbulent weather, I'll bring a Frogg Toggs rain jacket (if the durability issues I've read about prove to be a nuisance, I'll replace it with a Northface Venture 2 rain jacket) and a rain skirt ULA instead of the Frogg Toggs poncho (could swap the rain skirt for a pair of Helly Hansen rain pants…. But it added weight, totally packing my fear of rain here).
Clothing, worn
This is what I will wear everyday. I'm wearing a Northface Solar Hoodie (straight out of Poshmark, not sure about the style), Patagonia Barely There Bags, MinkPink Sports Bra, and Patagonia Barely Bikini Briefs (no one likes chafing).
I wear a Patagonia trucker hat for extra sun protection and a pair of Oakley Sutro Light sunglasses (a gift from my good friend, Brandon – you have to look good to play well!). I wear Altra Lone Peaks (specifically the 10th Anniversary 5s) paired with Darn Tough Vermont Micro Cushion socks and silly Dirty Girl gaiters.

Overall my base weight is around 11 1/2 pounds with the sandals and cork ball.
Questions?
So this is my gear! I've been lucky enough to have tested everything before jumping in and have a pretty good idea of ​​what works for me. I love gear so if you have any questions or just want to chat, hit me up in the comments or add me on Instagram – https://www.instagram.com/hike_more/
Affiliate Disclosure
This website contains affiliate links, which means The Trek may receive a percentage of any product or service you purchase using the links in articles or advertisements. The buyer pays the same price as they would otherwise, and your purchase helps support The Trek's ongoing goal of providing you with quality hiking advice and information. Thanks for your help!
To learn more, please visit the About This Site page.