PRESS RELEASE: LESS BRAKE
We have developed innovative pads capable of adapting to the needs of pilots and to the different forms of brakingadapting your braking feel to your riding style, from the most direct to the most progressive.
Our main goal has been to craft top quality products, which is why we have worked hard, researched and developed the best components to achieve the best end products. Resin, Kevlar and Copper fibers are supplied by the best manufacturers in the world, such as Hexion, Momentive or Dupont, which are based in countries such as the United States, Germany and Japan.
This allows LESS brakes to offer a wide product portfolio, including brake pads compatible with major industry brands, such as Shimano, Sram, Hope, Magura, Formula, Trp, Trick Stuff, Avid or Tektro .

Renata Wiese / Marco Martinez / Milciades Jaque, LESS Brakes ambassadors.
There's one main reason why our brake pads are unique in the industry: their technology development is based on the rider's braking feel and how they can modulate it. This means that with the same brand and model of brakes, riders can vary and achieve different types of braking by just changing the type of pads.
In order to choose the right brake pad compound, it is essential to be fully aware of the performance of each of the compounds, to determine the discipline in which it will be used and to know the basic parameters to measure its real behavior and performance.
The rider should be aware that there is no ideal, general brake pad for use in all conditions. Each compound has been developed to provide the best possible functions in each of the specific areas in which cycling is currently practiced.
There are very clear differences in the performance of each compound. Each has a specific function, with its advantages and disadvantages, so the selection criteria should not just focus on the functions it offers, but also on other important aspects, such as wear and comfort. use of the brakes.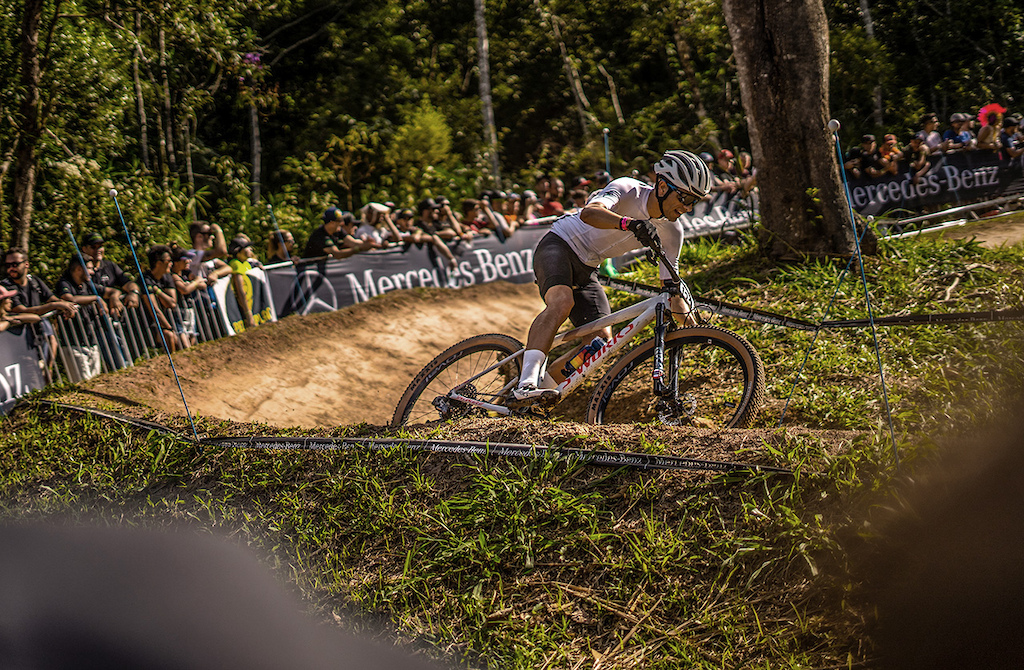 Victor Cerda, Chilean driver and LESS Brakes ambassador thanks to Monzoko.
Main parameters to determine the performance of brake pads
To make an informed decision on the brake pad compound required, it is essential to base the decision on a series of parameters that characterize braking ability. Overall, this can be summed up in two main aspects: Efficiency and Wear.
Efficiency is measured through the coefficient of friction offered by the rubber (braking power), the characteristics of this friction (progressiveness) and its stability as a function of important factors such as temperature and humidity.
Wear is determined by the amount of friction material consumed during braking, both brake pads and brake discs.
What are the models and compounds of LESS brakes?
We have developed 3 types of compounds, suitable for different requirements and circumstances.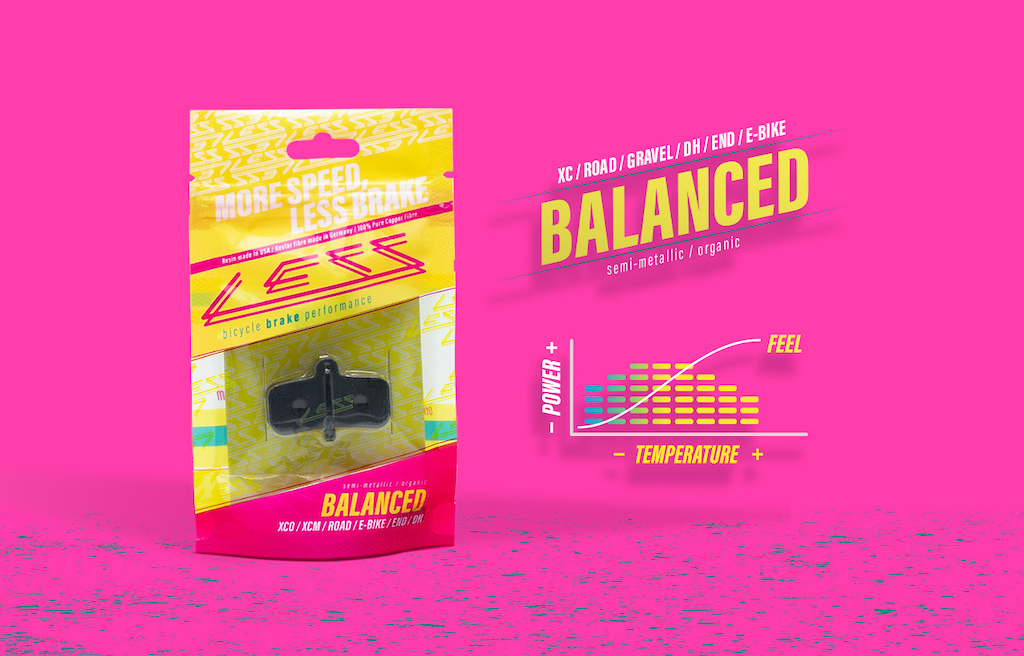 BALANCED / SEMI-METALLIC
XCO / XCM / Road / E-Bike / Enduro / DH
Neutrality and linearity at the same time and an unbeatable price/power ratio.
The main objective of this compound is to offer the possibility of purchasing performance brake pads at a very competitive price. We have combined all the benefits of its organic base compound with a touch of abrasiveness, using metallic components in the phenolic material.
The organic base guarantees responsive and stable braking without a long break-in period, while the metal components increase the coefficient of friction offered by the organic base, considerably improving wear resistance.
In short, this results in responsive and powerful brake pads at low/medium temperatures, offering low noise, a short break-in period and good wear resistance.
Performance:
• Direct and stable braking.
• Barely noisy.
• Does not need a long running-in phase.
• Very good price/performance ratio.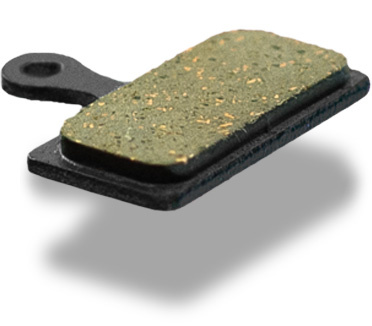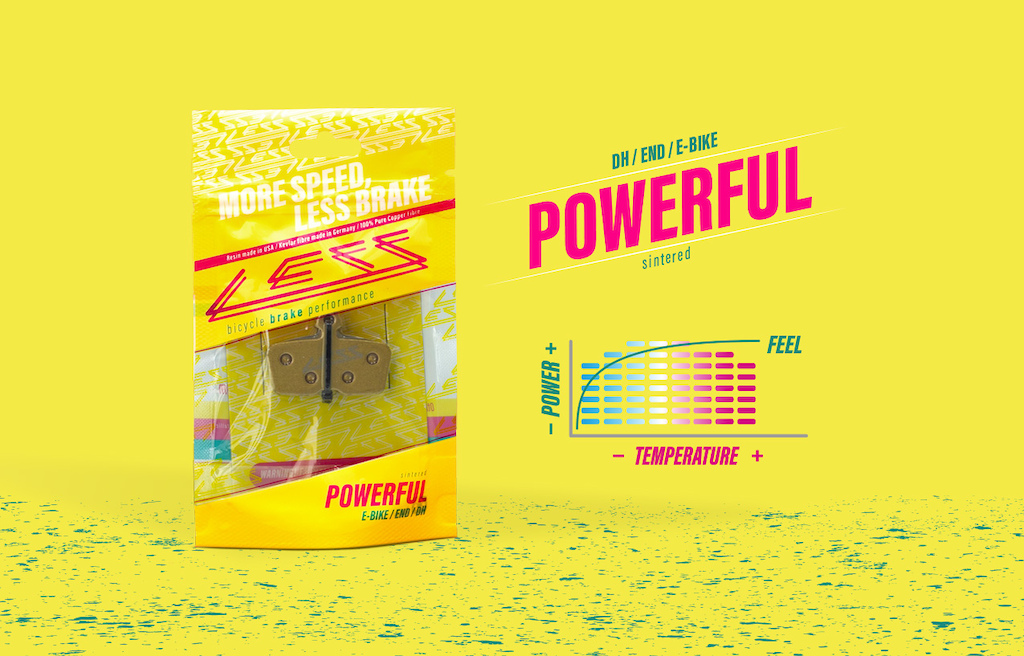 POWERFUL / SINTERED
Electric bike / Enduro / DH
Get a direct and sudden reaction with maximum power and responsiveness even in wet conditions.
Based again on the aspect of modulation in the braking system, the sintered compound offers a totally different performance than the ceramic compound. This will allow riders to get a totally different reaction with the same brake model, thus offering a high level of customization, even the type of braking desired in the front and rear brakes independently.
The powerful brake pad provides a super direct feel on the brake lever and generates huge stopping power. It is, by far, the compound with the greatest coefficient of friction offered by the brand and its functions remain intact even in wet and muddy conditions. They are likely to generate noise in these types of conditions, so riders are advised to properly assess their criteria before opting for this specific compound.
They offer a high level of wear resistance thanks to their metallic powder composition. This gives us long lasting brake pads, even though it increases brake disc wear.
Sintered pads provide maximum stopping power and a very responsive feel on the brake lever. They generate an extremely high all-weather coefficient of friction, which means the braking feel will be the same in dry or wet conditions.
It's your best bet if you're looking for a direct, responsive feel on your brakes.
Performance:
• Super direct and responsive fell on the lever.
• Maximum braking power.
• Good performance in water and mud.
• Great durability.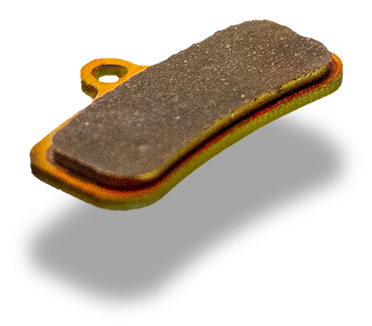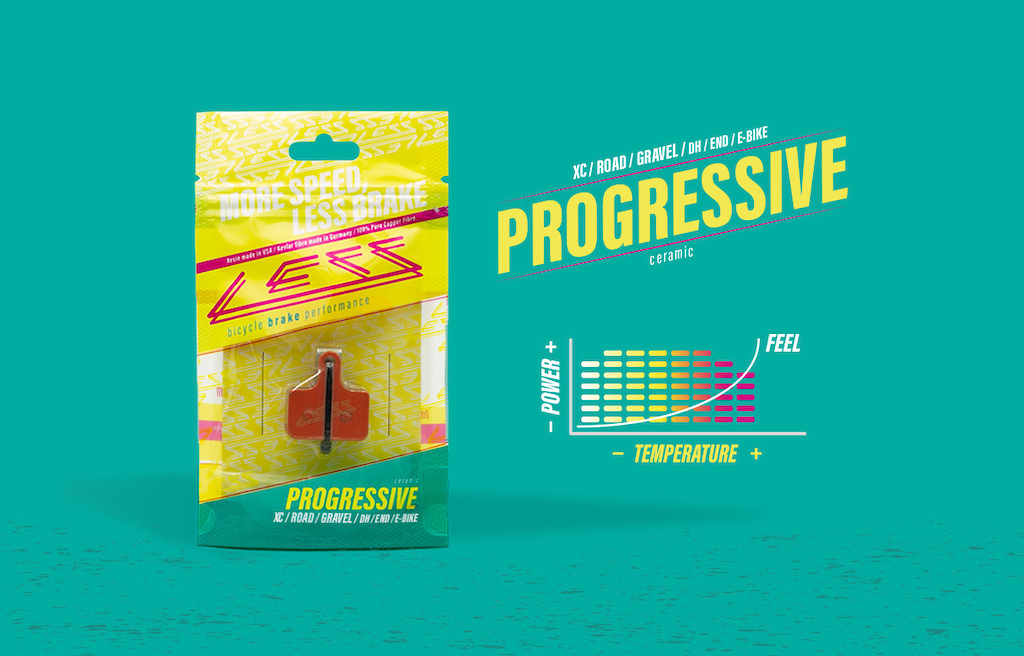 PROGRESSIVE / CERAMIC COMPOUND
XCO / XCM / Road / E-Bike / Enduro / DH
Do you want progress and fluidity? Modulating braking with long-lasting and ultra-quiet brake pads.
Brake modulation is a key aspect when choosing a brake brand or model for advanced users in the world of cycling. With this compound, the goal is to give riders the ability to modify the feel and responsiveness of the front and rear brakes, providing very specific braking characteristics that are 100% adaptable to their needs.
The progressive model is an all-ceramic compound, which is completely metal-free and offers a progressive and modular feel on the brake lever, maintaining a high and stable coefficient of friction in almost the entire temperature range of use, being much more stable than semi-metallic compound.
Another of the main qualities provided by the ceramic compound is the low level of noise it generates, but not only that, it is also the compound with the greatest resistance to wear, which makes it the range of pads of quietest and most durable brake available today. by the brand.
This particular compound requires an appropriate break-in period to obtain a perfect adaptation to the brake disc, being a basic requirement to ensure its best possible functions.
The ceramic compound guarantees highly progressive and stable braking over a wide range of operating temperatures. They are also extremely quiet and offer a high level of wear resistance.
Performance:
• Soft and progressive feeling on the brake lever.
• Stable and controlled braking.
• Very quiet (mute effect).
• High resistance to wear.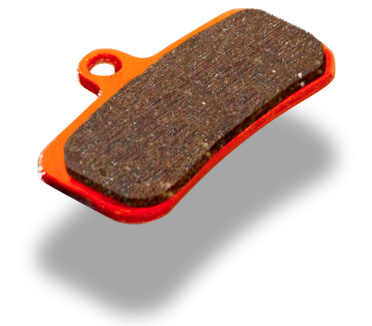 In summary, analyze your technical needs and remember to choose the pads which, in addition to giving you the best performance, are perfectly suited to your braking preferences and other important factors such as weather and surface conditions or preferred compounds.
LESS Brakes pads offer cyclists the possibility to choose the best option for their needs and the security of having an innovative and top quality product, unique on the market and fully adaptable to all your riding requirements.
You can find more technical information and request information about our products at:
lessbrakes.com.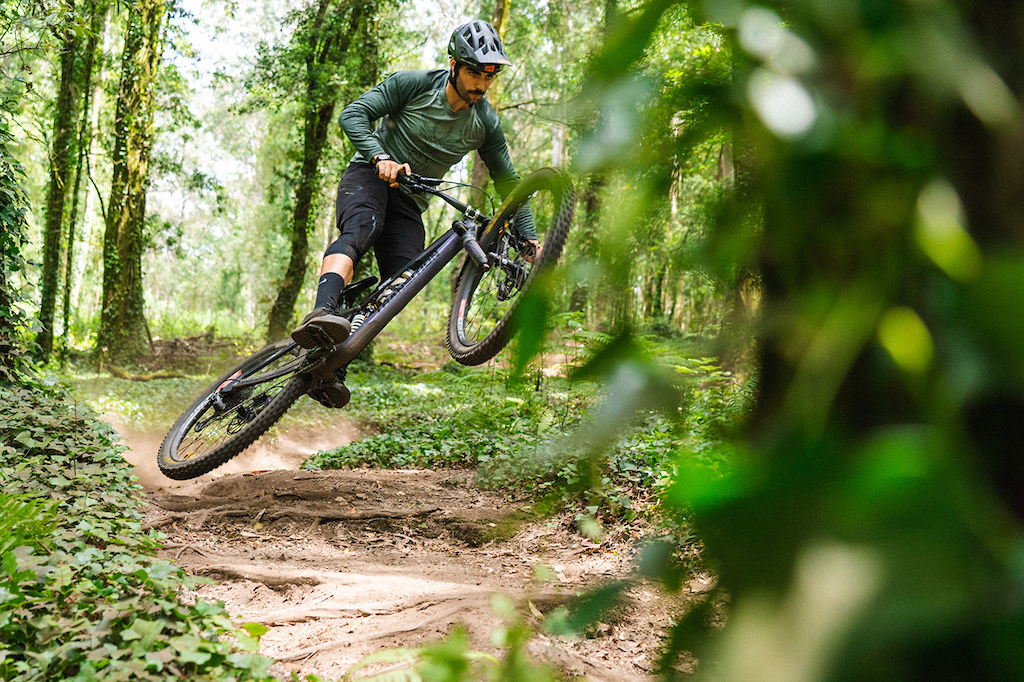 Nicolás Carrera LESS Brakes Ambassador.